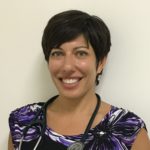 Amy Wecker, MD
Dr. Wecker completed her undergraduate degree at Tulane University and medical degree in Israel with a joint degree from Columbia University and Ben-Gurion University of the Negev. She completed her internal medical residency at Luke's Roosevelt Hospital in New York City and ID Fellowship at SUNY Downstate Medical Center. In 2007, she moved to Ft. Myers and was a partner at Internal Medicine Associates for 7 years. In 2014, she mo...
read more
Luz Aida Ospina, DDS
Dr. Ospina has joined CAN Community Health and is now part of our team of healthcare providers. We are updating information and scheduling a photographer. Please Check back soon for more information....
read more